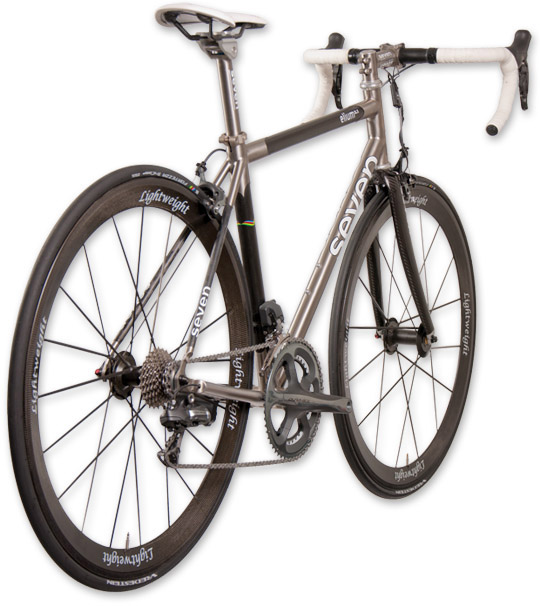 Seven's titanium-carbon creation (picture courtesy of Seven)
Seven Cycles is a custom builder out of Watertown, MA, specializing in custom geometry titanium (as well as steel and carbon fiber) frames. I had seen many pictures of their work on the internet, and was particularly impressed with their carbon-titanium offering, the Elium Race (these days it is called the Elium SLX), which I first saw on Pez Cycling's website.
A little over a year ago, I was thinking about adding a new titanium bike to my stable. As I browsing the local classifieds, I was surprised to see a Seven Elium Race for sale, as these things seem to be quite rare. Upon clicking on the ad, I was delighted to see that the frame was essentially my size, and a couple emails later to iron out some details (geometry, pricing, etc.) I had arranged to purchase the bike.
Here is the bike the day I brought it home with me:
The bike came with full Campagnolo Record 10-speed, Ritchey

carbon seatpost, Zipp stem/handlebar and a pair of Mavic training wheels.
I then made a few tweaks and changed out a few parts to make the bike my own and t

o

match my customary fit. Here is how it looks these days, with both shallow aluminum wheels (H Plus Son TB14 rims) and deep carbon wheels (Reynolds 46 rims):
As it stands, the bike is built up with:
- Campagnolo Record 10-speed groupset (except Veloce cassette)
- FSA K-Force 32mm setback seatpost
- Zipp SL "Beyond Black" stem and Speed Course SL short-and-shallow handlebar
- Brooks Cambium C17 saddle (or Specialized Romin)
- Shimano Dura Ace 7810 pedals
After having had the bike for just over a year
and having had the chance to put it through its paces (about 3,000 miles)
, below are my impressions. Now,
keep in mind that this frame was custom-built for someone else (who happened
to have very similar proportions to me)
, so
I didn't get to go through Seven's extensive design/selection process with regards to geometry and the tube sizes.
Stiffness/Handling:
Let me start with drivetrain stiffness. The frame has beefy (7/8" diameter) chainstays (which bear Seven's signature curves and look quite sexy in my opinion), and a stout looking
bottom bracket
(
but not really oversized, especially compared to today's modern carbon fiber frames)
:
All of these seem to contribute to plenty of stiffness, certainly good enough for what my legs can throw at it. At 183 cm (6 ft) / 100 kg (220 lbs), I am a bigger rider and there are no signs of excessive frame flex of any sort (no chain rub etc.). It just feels solid.
As far as front end stiffness is concerned, the bike does quite well in this regard as well. The 55 mm of trail this frame/fork combo yields is a bit less than I usually prefer (I like 58-60 mm on my bikes), but nonetheless the bike tracks and corners very well. The handling is a bit quicker than I like (presumably because of the trail), but not enough to bother me.

Comfort:
When I first started riding the frame, I was using 23 mm Veloflex Corsa clincher tires pumped to 120 psi rear / 110 psi front. This is a combo I have used on my steel Zanconato, and it feels quite comfortable on that frame but on the Seven it felt a bit harsh. From what I had read, the Elium is typically described as being very comfortable so I was a bit surprised.
When I switched to Michelin Pro4 Service Course tires in 25 mm width (which measure more like 27 mm wide on my wheels) and reduced the pressures to 105 psi rear / 100 psi front due to the larger tire size, things improved tremendously in the comfort department. I still wouldn't call it plush, but given the stiffness I think it is an acceptable trade-off. There is about 2.5 mm of lateral clearance on each side in the rear triangle with the Michelins on there (these tires measure more like 27 mm), which is not much and I get occasional rubbing if I am out of the saddle and going full gas.
Weight:
Complete bike with the carbon clinchers weighs 17.5 lbs, or just under 8 kg. Not very light, but not heavy either (plus I am not a light guy so it is all good).
Complaints:
I really only have a couple minor complaints, which would have been mitigated if I was the original owner and went through Seven's process. First, I have long femurs and run a lot of saddle setback. I would have preferred a slightly slacker seat tube angle so that I could run a seatpost with less setback. This is mainly an aesthetics issue. Second, it would have been better fit-wise if the head tube was slightly longer. Third, the frame has limited clearance for larger tires. Last
, the decals are not very durable (but they can easily be replaced).

Overall:
All in all, I rate the Elium Race very highly. The workmanship
(the weld quality, finish, etc.)
is top notch, and the bike performs very well in a variety of conditions. It climbs as well as my legs let me, allows me to ride comfortably in a 25 mph paceline, and descends confidently. It is al

so
a visually striking frame, and

gets compliments all the time both from racer

types

as well as the casual riders. A

dream bike really.
I guess the best compliment I can give it is that since acquiring the Seven, I have ridden my steel Zanconato
(which is a great frame in its own right)
only a handful of times. This is not a knock on the Zanconato, but a testament to the well-balanced nature of the Seven. I imagine it could have only been better had the frame been designed specifically for me (though if I was paying retail price, I probably would have gone with the Axiom instead of the Elium).
Update: I sold this bike a little while ago. I experimented with running large tires, and found the added comfort (with little to no sacrifice in speed) to be quite addicting. I also made an effort to thin the herd, and this bike was one that did not make the cut. Really enjoyed my time on it though; in fact, I had never kept a bike for as long as I kept this one.